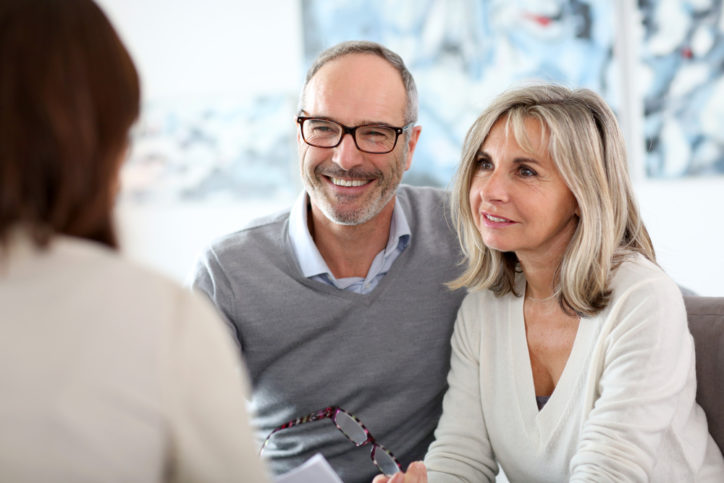 Carl and Judy are a married couple, aged 62 and 58. After a career in retail management Carl is semi-retired and now works two days a week as a self-employed business consultant. Judy took early retirement from her job at 55.
Carl and Judy's number one concern was to ensure that they had enough money to fund their retirement lifestyle. They had reviewed their expenditure and knew what income they needed in the medium-term but they were thinking of moving house in the next ten years. They wanted flexibility in their finances to help them cope with changes in the future.
Both Carl and Judy hold several pensions and had reached a point where they needed advice on drawing income from their pensions in the most tax-efficient way.
Income in retirement
Carl and Judy needed £15,000 each a year to live comfortably in semi-retirement. Carl was earning around £10,000 from his consultancy work. Judy had a rental property which generated £6,000 of income after management fees and other expenses.
Pensions
Carl had a company defined benefit pension payable from age 65. The total value of Carl's personal pensions was around £200,000 and Judy's was around £250,000. They would both be eligible to receive the state pension from age 66.
Our approach to retirement planning
We looked carefully at Carl and Judy's pensions and investments. When we met, we talked through their personal circumstances, health and their plans for the future. It was important to us to understand what their expectations were, and also what concerns or worries they had about managing their money. We discussed their attitude to investment risk so that we could identify the right financial products for their circumstances.
Carl and Judy had the option of purchasing annuities with their personal pensions. Annuities provide the security of a guaranteed income for the rest of your life, but they are inflexible. Given that annuity rates were at historic lows, and that both Carl and Judy were in good health, we recommended using "flexible drawdown" to use some of their pension funds to provide their income. The new pension rules introduced in April 2015 allow people over 55 to take sums from their defined contribution pension pots whilst the rest remains invested. Using drawdown would give Carl and Judy the flexibility to withdraw what they needed as their circumstances changed, and offer potential for further growth in the value of their funds.
Four of the six existing personal pensions did not offer drawdown, only annuity purchase. We therefore recommended that they consolidated these into their pension with another provider that can facilitate drawdown.
We advised Carl and Judy to take their income as a monthly amount, rather than an annual lump sum. This would allow their monies to remain invested for as long as possible in a tax efficient environment with the potential for further growth.
Taking income in a tax efficient way
We explained that Carl and Judy could take a certain amount each year from their pensions tax-free (the Pension Commencement Lump Sum). We provided them with personal figures which showed how they could combine their existing income from employment and property with the tax-free sum, and also take a small additional income from their pension without incurring tax.
Carl's example:
| | |
| --- | --- |
| Income from employment |  £10,000 |
| Additional sum from pension (£83.00 per month) |  £996 |
| Total taxable income |  £10,996 |
| Personal allowance (2016/17) – £11,000 | |
| Tax free sum from pension (£333.25 per month) |  £4,000 |
| Total income |  £14,996 |
Investment risk
We discussed the investment risk associated with this approach, explaining the potential volatility of the pension plan investments. Carl and Judy felt comfortable with the relative capacity for loss.
Outcomes
By restructuring their pension portfolios and using flexible drawdown Carl and Judy were able to achieve the income they needed for the medium-term, whilst keeping the flexibility they needed for the long-term. Our review helped them to feel more confident about their finances as they moved into retirement, and more in control of their future wealth.
As part of our ongoing Wealth Management service we will continue to meet Carl and Judy twice a year to review their financial plan, the performance of their pension plans, and any changes in their circumstances, so that we can re-adjust their plan if necessary.
This case study draws on services we have provided to several clients. Names and personal details have been changed. This case study is designed to show how we work with clients and does not constitute advice, as each individual's circumstances are different.
For advice on planning for your retirement and on pensions, contact us on 01159 727666 for a free consultation.