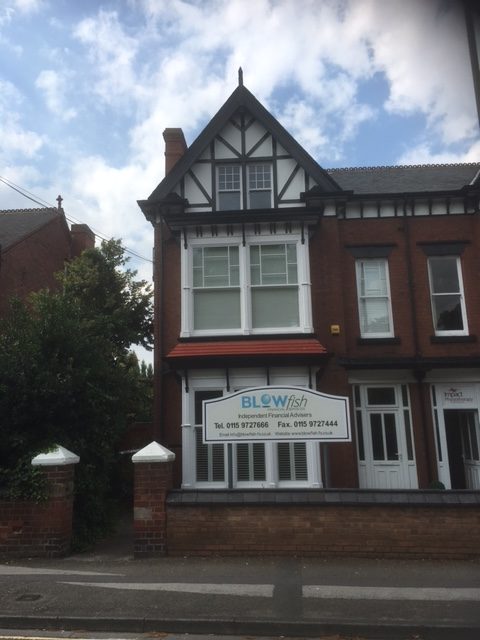 Blowfish Financial Services are delighted to be in our new office at 130 Derby Road, just two doors down from our previous office in Long Eaton. It's a three-storey Victorian house in a designated Conservation Area, just opposite the playing fields of Trent College.
We bought the building three years ago and a lot of work has gone in to getting it ready. Much more work than we ever imagined at the outset! We've carried out a complete renovation including re-wiring, re-plastering, new heating, new bathrooms and toilets, and work on the roof and chimneys. Whilst creating a modern office environment we've also tried to retain the character of the house. The original Minton tiles in the hallway were unfortunately too damaged to be kept, as a previous owner had glued carpet to them. We took the time to find a good-quality, modern replacement in a similar style. We must have done a good job, as many of our visitors think they're the original tiles.
What will you find when you visit us at 130 Derby Road? A more spacious office environment with a pleasant reception area. And of course, our usual friendly welcome.
We're conveniently located close to Junction 25 of the M1, the A52 and the A50, and a short walk from Long Eaton town centre.
We look forward to welcoming you to our new office in the next few months. If you are looking for financial advice why not contact us for a free, informal chat about your requirements?